According to Kenya Demographic and Health Survey (KDHS) 2014 religion has been alluded to as one of the main reasons for FGM/C among the Muslim communities. Majority of Somali women (82 per cent) and men (83 per cent) believe FGM/C is a religious requirement. The national prevalence of FGM/C among the Somali community who are predominantly Muslims stand at 94% the highest in Kenya against a national prevalence of 21%. The figures from UNICEF report 2016 paints a similar picture across the world with Muslim predominant countries leading in terms of  FGM/C prevalence.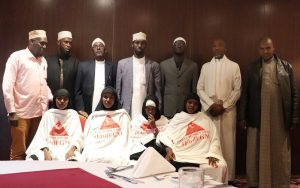 Deputy chief Kadhi of Kenya Rashid Ali Omar third left is joined for a photo by members of Dayaa Women Group after the press conference where they declared FGM is not a religious requirement  
Photo credit Fardosa Hussein
Nairobi 7th May 2018 'Cease fire' from unlikely quarters has been declared by the intervention of a little known FGM/C (survivors led) Dayaa Women group from one of the remotest Counties (Tana River) in Kenya. How they single-handedly managed to convince the Deputy chief Kadhi of Kenya and other Muslim scholars to issues a press statement delinking FGM/C from Islam is a story to be told another day.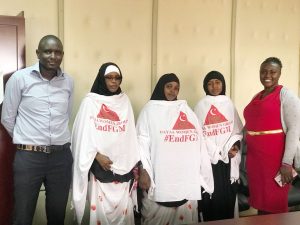 Tony Mwebia Far left and Diana Kendi far right with Dayaa group Members
Photo credit Fardosa Hussein
The wind is now blowing from Kenya it's time for the owners of the ships and boats to join the owners of dhows and build on this momentum. This should mark the beginning of a new wave of campaigns targeting religious leaders from all folks of life. The message should resonate in every corner of Kenya and the overflow to the rest of the world that FGM/C is a harmful cultural practice that violates the rights of girls and women and it has no place in the 21st century.
#FGMNotMyReligion Is a rallying call to face the controversy shrouding FGM and religion head on and spread the end FGM message to every Church, Shrine, Mosque and Synagogue. Join the conversation online and get sharing your views, comments and work engaging religious leaders in the fight against FGM.
Ships – International NGOs and UN Bodies
Boats –  National NGOs and Government Agencies
Dhows – CBOs and other community led organizations (Dayaa Women Group)